Why is my phone number marked as VoIP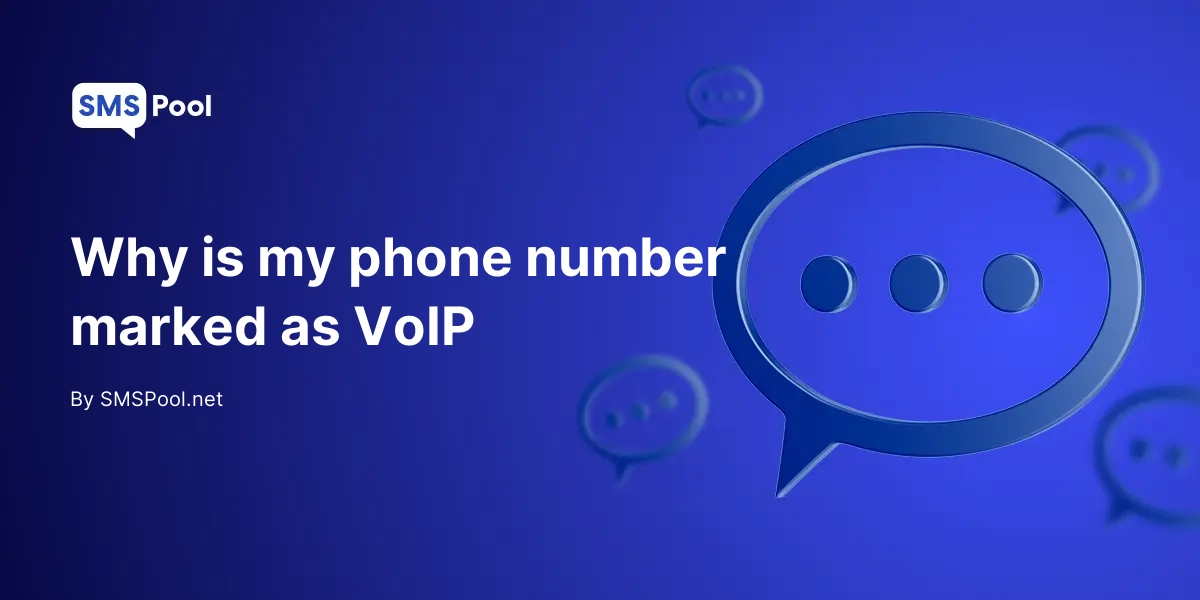 Ever received a message saying: "This phone number is not accepted" or "Virtual phone numbers are not accepted" this is most likely due to your phone number being a VoIP number that is usually provided from online texting/calling apps such as Google Voice or other services. But what makes a phone number VoIP and why are companies so against them?
This can be due to many reasons such as spammers, bots, multi-accounting, fraud, and other reasons. Because how easy is it actually to get a phone number compared to getting a new IP? IPs are something that is also used when it comes to detecting bots or fraudulent activity, getting a unique phone number that isn't VoIP is way harder than just finding a VPN and buying it at an extremely low price (or even using it for free), it's way harder to block a set of IPs than block some virtual phone numbers and disallow them on your site. And depending on the other country it can get really hard to even get a secondary sim card, it'll either be too costly or just not possible at all.
So how do they know that I am using a VoIP phone number?
Usually, websites have a large database with phone numbers listed in them, this is usually in combination with other data such as carrier information. According to us, it seems like larger websites have a large list with pre-allowed carriers these can be main carriers such as T-Mobile, Vodafone, etc. While disallowing any other carrier to register that isn't defined in their own list of allowed carriers. Luckily for the average consumer, we are able to look up our own phone numbers with services such as our Free Carrier Lookup that tell you what carrier you're using.
For example, we tried filling in a Google Voice phone number and it returned:
Carrier:
Google (Grand Central) - SVR
Is Wireless:
n
Usually, a site that is available to the public does not provide the latest details but it does provide a good hint on what carrier is being used at the moment or has been used for the phone number as it is possible for the phone number to be allocated to another carrier again. But it does tell us it's an SVR phone number that provides VoIP communications so a phone number like this would get blocked by most services that disallow VoIP carriers.
If you compare this to one of the T-Mobile phone numbers, it returns something like this:
Carrier:
T-Mobile USA, Inc.
Is Wireless:
y
T-Mobile is a very common carrier that usually does not get blocked by any service, it is also marked as wireless meaning it's a mobile phone number that usually does not get blacklisted anywhere and works for most, if not all services.
So what is the solution?
If your VoIP phone number does not work for the service you are attempting to register on, we recommend you to get an e-sim as it is the easiest way of getting a sim card without having to do anything physically, although for most countries this would still require some form of identification. If that's something you would not like to provide, there are always prepaid sims that are usually available in supermarkets, phone repair shops, or grocery stores such as Lycamobile, Lebara, or other sim cards that you can take without any form of identification. These prepaid are available in a lot of countries, and most of them also allow you to send a sim card directly to your home.
If you do not wish to go through all this hassle, there are plenty of online SMS verification services that allow you to receive a phone number that usually consists of prepaid phone numbers or other sim cards that are obtainable within that country. SMSPool is a service that provides you with non-VoIP SMS verifications that do not get flagged as a VoIP phone number.
Even with a non-VoIP phone number, I am unable to create an account
In this case, the site is most likely marking you as a spammer, this can be due to many reasons such as a bad IP, a flagged browser session, and many other secret ways based on how the website fingerprints you. This can usually be solved by turning off your VPN and making sure you're using an IP that doesn't have a high fraud score as most VPN IPs do commonly have a high fraud score but this is not always the case.
Return to blog
About the author
SMSPool Admin
The owner of SMSPool.net, a site that originally started as a hobby but saw rapid expansion due to the high demand, loves anything technology related and loves writing about technology related articles.
Other interesting articles