How to create a Telegram account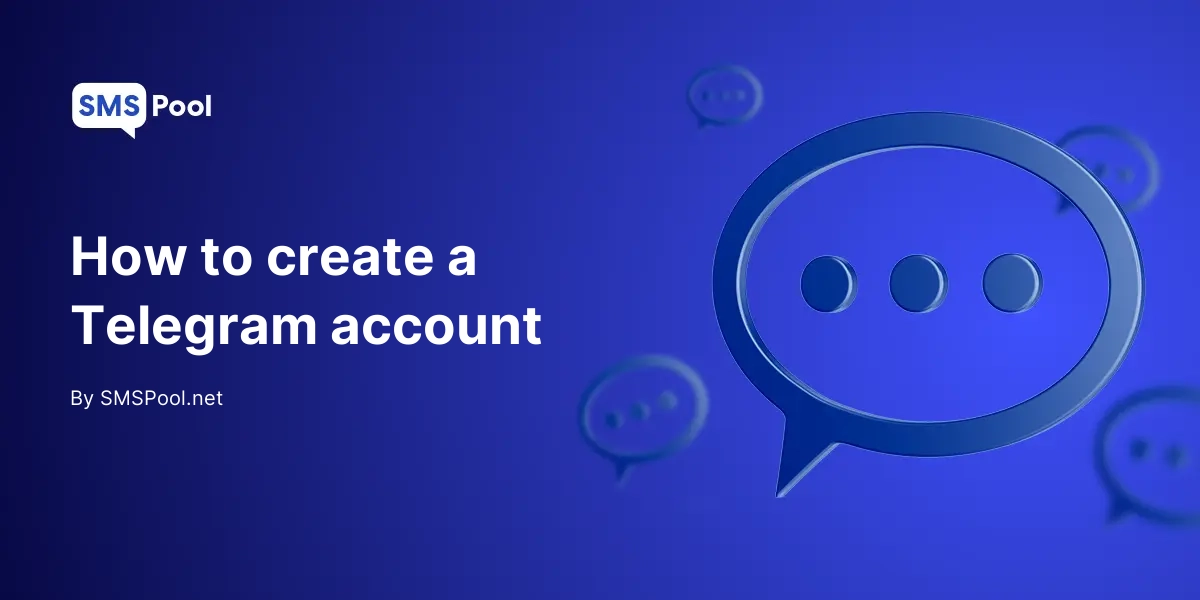 Telegram is a cross-platform IM service that works on both mobile devices and desktops. It is currently a free app but in the future Telegram is planning to add premium subscriptions that give access to certain features such as extra stickers. Telegram is especially known for its way of handling privacy and providing e2ee encryption to its users. As you might have noticed; you can only sign up using your mobile phone number. Which is rather odd, especially for a service that's generalized around privacy and security. So you might be wondering, how can I create a Telegram account without a phone number? There's an easy answer to that; SMSPool allows you to verify Telegram accounts with their Telegram SMS verifications that are priced at 1.00 dollar, find out how to register a Telegram account in less than 5 minutes!
What do I need to register a Telegram account?
A phone or emulator with at least 250MB of space
How do I create a Telegram account?
Creating a Telegram account using our Telegram SMS verifications is easy! All you need to do is follow these five steps.
Download the Telegram app on the App Store/Play Store

Attempting to register a Telegram account on your desktop will NOT work, you have to use a mobile device or an emulator.

Open the Telegram App on your mobile

After opening the Telegram App you will be greeted with a simple page with a button that says "Start Messaging". Press that button
and it should open a screen that asks for your phone number.

Fill in your own phone number or get a phone number from SMSPool

For this step, you will need your own phone number, or you can get a

free Telegram SMS verification

from SMSPool. But of course; the paid phone numbers work the best so we will use them for this tutorial. If you don't know how to get a paid phone number; please read our guide on

how to get a paid SMS verification


As we are from the US, we will get a US phone number and fill it in on Telegram. After filling it in press the arrow on the right bottom. It'll ask you if this is the correct number, press yes and it should send you an SMS verification.

Receive your SMS code

If you use your own phone number, you should receive an SMS that looks like this: Telegram code: 29302 You can also tap on this link to log in: https://t.me/login/29302. If you did; then fill in the 5-number code, in our case, it is 29302 as you can see in our screenshot.

Fill in the SMS code




And voila! You have registered your own Telegram account without needing a phone number within 5 steps. Running into issues when using our phone number? Feel free to contact our support team and we will help you as soon as possible! Although I have listed some common issues down below.
Why am I not getting a Telegram SMS verification?
If you are attempting to register a Telegram account on a desktop, try it on mobile or an emulator.
Your device/IP is flagged for creating too many accounts, try another device or IP.
You have been ghost banned for spam, or the IP is banned for spam.
The phone number does not correlate with your country, for example, a Russian phone number is less likely to work if you live in the US than a US phone number.
Return to blog
About the author
SMSPool Admin
The owner of SMSPool.net, a site that originally started as a hobby but saw rapid expansion due to the high demand, loves anything technology related and loves writing about technology related articles.
Other interesting articles