How to get a TikTok SMS verification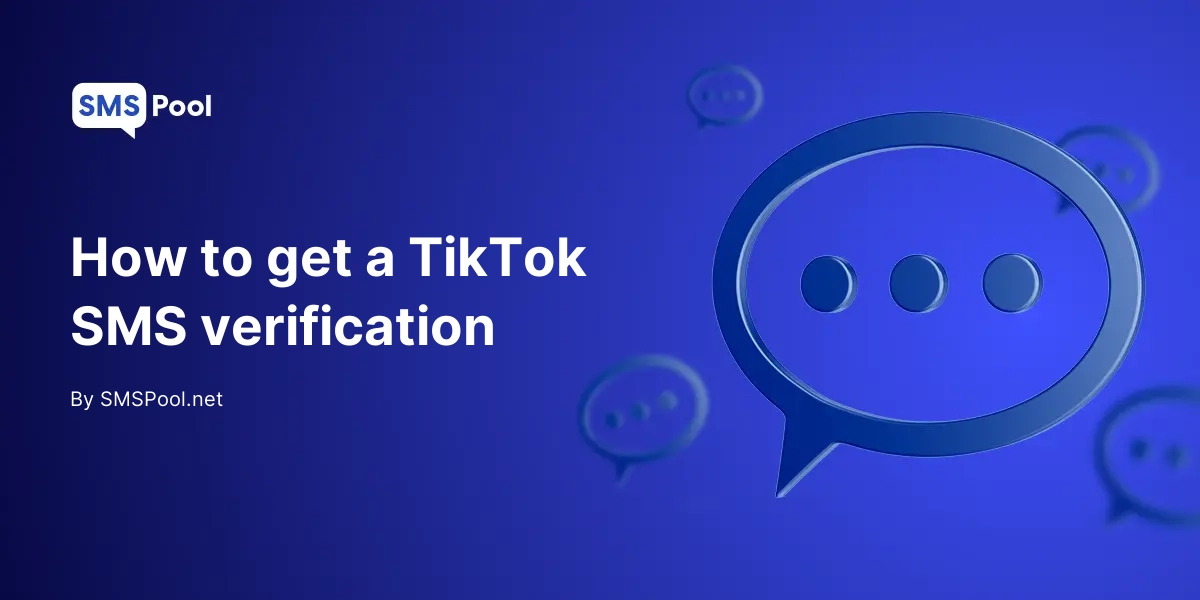 TikTok is a popular social media app allowing users to create and share short videos with friends and followers. The app is available for iOS and Android devices and has become especially popular with younger users. One of the key features of TikTok is the ability to verify your account with an SMS verification code, which provides an extra layer of security for your account and helps to prevent unauthorized access. We'll also explain how to verify your TikTok account without a phone number, In case you don't wish to use your phone number to maximize the privacy of your TikTok account.
Here is a step-by-step guide to getting a TikTok SMS verification code.
Step 1: Download and install the TikTok app.
The first thing you will need to do is download and install the TikTok app on your device. The app is free on the App Store for iOS devices and Google Play for Android devices. Once the app is installed, open it and tap on the "Sign Up" button to create a new account.
Step 2: Enter your personal information
When creating a new TikTok account, you will be asked to enter personal information, such as your name, email address, and phone number. Make sure to enter this information accurately, as it will be used to verify your account.
Step 3: Verify your phone number
After entering your personal information, TikTok will ask you to verify your phone number. This is an important step, as it will help to prevent anyone else from accessing your account without your permission. To verify your phone number, tap on the "Send Code" button, and TikTok will send a verification code to your phone via SMS.
Step 4: Enter the verification code
Once you receive the verification code via SMS, open the TikTok app and enter the code in the designated field. This will verify your phone number and complete the setup of your TikTok account.
Step 5: Set up your profile
After verifying your phone number, you can start setting up your TikTok profile. This includes choosing a profile picture, writing a bio, and selecting the content you want to create and share on TikTok. You can also connect your TikTok account to other social media platforms, such as Instagram or Facebook, to make sharing your videos with a wider audience easier.
Step 6: Start creating and sharing videos
Once your TikTok account is set up and verified, you can start creating and sharing videos on the app. TikTok has several built-in tools and features that make it easy to create and edit videos, such as filters, music, and special effects. You can also use the app to browse and discover other users' videos, and interact with them by liking, commenting, or sharing their content.
Conclusion
Getting a TikTok SMS verification code is a simple process that can help to protect your account from unauthorized access. Following the steps outlined above, you can easily verify your TikTok account and create and share videos with your friends and followers. Whether you are new to TikTok or are looking to enhance the security of your existing account, an SMS verification code is an important tool that can help to keep your account safe and secure.
Even though verifying your account with an SMS verification does mean that you have more security, it could potentially lessen your privacy which can be a difficult decision sometimes. That's why we suggest using either one of our non-VOIP phone numbers available both as a free SMS verification service and a paid SMS verification service. Using our services, you'll be able to mask your phone number with one of ours, meaning that your privacy will never be interrupted by any service.
Return to blog
About the author
SMSPool Admin
The owner of SMSPool.net, a site that originally started as a hobby but saw rapid expansion due to the high demand, loves anything technology related and loves writing about technology related articles.
Other interesting articles